description
This 14th century merchant's home is believed to be the oldest town house in Wales. It's certainly the oldest survivor within Conwy's 13th century walls. Take an audio-visual tour of more than 600 years of the evolution of the house and the people who occupied it. Look out for the mysterious lady by the fireplace, a wandering Victiorian gentleman, and a faint aroma of pipe smoke - just some of the strange unexplained experiences reported by visitors to the house.
contact
Aberconwy House
Castle Street
Conwy
Conwy
LL32 8AY

Tel: 01492 592246

VAQAS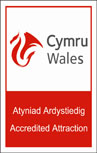 This attraction is Visitor Attraction Quality Assurance Service (VAQAS) approved.
Visit the VAQAS website for more details ...
Note: Shop closed 25, 26 December. Shop opens at 11am on Sundays
categories
Part of: National Trust, Historical categories
How do I find Aberconwy House?
Public Transport
Conwy buses
somewhere to stay?
nearest events