description
This gritty, dark stoned fortress has the rare ability to evoke an authentic medieval atmosphere. The first time that visitors catch sight of the castle, commanding a rock above the Conwy estuary and demanding as much attention as the dramatic Snowdonia skyline behind it, they know that they are in the presence of a historic site which still casts a powerful spell.
contact
Conwy Castle
Conwy
Conwy
LL32 8AY

Tel: 01443 33 6000

VAQAS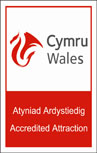 This attraction is Visitor Attraction Quality Assurance Service (VAQAS) approved.
Visit the VAQAS website for more details ...
Note: Times are effective from April 1st
categories
Part of: Historical, Family, Culture & Heritage, Castles categories
How do I find Conwy Castle?
somewhere to stay?
nearest events