description
Denbigh Castle is one of the castles built by King Edward I of England during his conquest of Wales. It stands on a rocky promontory above the small town of Denbigh.
The site of the castle was probably occupied from the early Christian period, with the possibility that a native Welsh fortress was built on the site and was being used as a royal centre immediately before the building of the current stone castle. The current stone castle was begun by Henry de Lacy, 3rd Earl of Lincoln, to whom King Edward had granted the territory, shortly after the defeat of the last native Welsh prince in 1282. The original plan of the castle consisted of a long span of curtain walls with irregularly spaced projecting, half round towers with two gateways. These original walls now form the town walls. The current castle was divided from the rest of the enclosed area by a newer set of more massive walls in the style of Caernarfon Castle, including the unique three-towered gatehouse that is its most striking feature. Although there is no hard evidence to prove it, it is widely believed that the architect responsible for these walls was the king's Master Mason, Master James of Saint George. The castle is also the home of one apparation of the "Grey Lady".
contact
Denbigh Castle
Castle Hill
Denbigh
Denbigh
LL16 3NB

Tel: 01745 813 385
Fax: 01824 708 258
VAQAS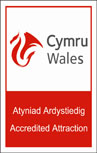 This attraction is Visitor Attraction Quality Assurance Service (VAQAS) approved.
Visit the VAQAS website for more details ...
prices
General
Adult: £3.20
Seniors: £2.80
Students: £2.80
Child:£2.80
Note: Family Ticket £9.20
Opening Times
Opening times
1st Apr - 31st Oct
| | M | T | W | T | F | S | S |
| --- | --- | --- | --- | --- | --- | --- | --- |
| 10:00 - 17:00 | | | | | | | |
Note: Times Effective from April 1st
categories
Part of: Historical, Culture & Heritage, Castles categories
How do I find Denbigh Castle?
A525 to Denbigh and follow brown signs

somewhere to stay?
North Wales Borderlands
North Wales Borderlands
nearest events