description
We've loads of kid's activities for the holidays. A seventy acre country park with woodlands, reservoirs, ancient monuments and industrial history close to the market town of Holywell, North Wales.
A free Visitor Centre, which is also the entrance to a Museum and Farm, has information on woodland walks, educational activities, fishing and bird watching in the area. A free guide/brochure is available from the Visitor Centre (open 30th March - 2nd November 2007 every day from 10am - 4.30pm). The Park and surrounding area is open all year round.
contact
Greenfield Valley Heritage Park
Greenfield
Holywell
Flintshire
CH8 7GH

Tel: 01352 714 172
Fax: 01352 714 791
VAQAS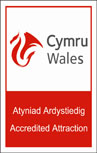 This attraction is Visitor Attraction Quality Assurance Service (VAQAS) approved.
Visit the VAQAS website for more details ...
Note: Last Admission: 4.00pm
categories
Part of: Historical, Farm, Wildlife & Zoo, Parks & Gardens categories
How do I find Greenfield Valley Heritage Park?
Leave A55 at Holywell, follow Heritage Park signs at Greenfield