description
Llynnon Mill, the only working windmill in Wales, is an agricultural museum producing stoneground wholemeal flour using organic wheat. A prehistoric settlement has also been re-created- typical of what existed on Anglesey around 3,000 years ago. Visit the reconstructed bakery and take a stroll along the mills trail linking Llynnon and Howell Watermill
contact
Llynnon Mill
Holyhead
Anglesey
LL65 4AB

Tel: 01407 730797/
Fax: 01248 750282
VAQAS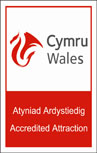 This attraction is Visitor Attraction Quality Assurance Service (VAQAS) approved.
Visit the VAQAS website for more details ...
categories
Part of: Historical, Family, Culture & Heritage categories
How do I find Llynnon Mill?
O.S: SH3485
The Mill is at Llanddeusant, to the east of the A5025 out of Valley.
Public Transport
Llanddeusant:Bangor Station
somewhere to stay?
nearest events