description
Do time in Ruthin Gaol. From 1654 to 1916, thousands of prisoners - men, women and children, innocent and guilty - passed through its gates. Visit the Pentonville Cell Block. Explore the cells. Find out about 'Welsh Houdini' and William Hughes - last person hanged here. Learn about the wartime munitions workers in the Gaol.

†
contact
Ruthin Gaol
46 Clwyd Street
Ruthin
Denbighshire
LL15 IHP

Tel: 01824 708281
Fax: 01824 708 258
VAQAS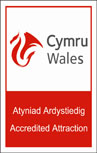 This attraction is Visitor Attraction Quality Assurance Service (VAQAS) approved.
Visit the VAQAS website for more details ...
Note: Open Bank holidays. Last admission one hour before closing. Evening opening for groups by appointment.
categories
Part of: Family, Culture & Heritage, Historical categories
How do I find Ruthin Gaol?
25 miles from Chester. Ruthin Gaol is at the bottom of Clwyd Street in the town.
Public Transport
Bus Stops - Ruthin
somewhere to stay?
nearest events