description
The Welsh Highland Heritage Railway in Porthmadog, is a small, friendly
railway where the train ride is just part of the experience. Our vintage train also stops at the sheds, where you can get off for a FREE guided, hands on tour.
contact
Welsh Highland Heritage Railway
The Station
Tremadog Road
Porthmadog
Gwynedd
LL49 9DY

Tel: 01766 513402
Fax: 08703 215402
VAQAS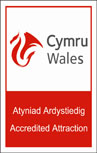 This attraction is Visitor Attraction Quality Assurance Service (VAQAS) approved.
Visit the VAQAS website for more details ...
Note: See website for 2009 timetable
categories
Part of: Culture & Heritage, Boats, Trains & Trams categories
How do I find Welsh Highland Heritage Railway?
On the A487 at the northern end of Porthmadog. If you're coming from the South, we're just past Tesco. If you're coming from Caernarfon, we're on the left as you arrive in town.
Public Transport
Railway - Porthmadog
somewhere to stay?
nearest events