description
The complete arts centre for North West Wales Performing and Visual Arts. Set in a converted chapel, Ucheldre opened in 1991 and received a Prince's trust award in 1994.
contact
Canolfan Ucheldre Centre
Millbank
Holyhead
Holyhead
LL65 1TE

Tel: 01407 763361
Fax: 01407 763341
VAQAS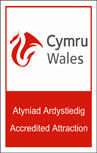 This attraction is Visitor Attraction Quality Assurance Service (VAQAS) approved.
Visit the VAQAS website for more details ...
prices
This is a free attraction
Note: Free admission
categories
Part of: Museum & Gallery, Culture & Heritage categories
How do I find Canolfan Ucheldre Centre?
somewhere to stay?
Isle of Anglesey
nearest events