description
Redline Indoor Karting is one of the few independent Indoor Karting Circuits in Wales where you can enjoy the lowest prices without compromising quality.
Located in an area of outstanding natural beauty, Redline Indoor Karting is situated in Caernarfon, Gwynedd, North Wales. Within close proximity to Anglesey, Conwy and all other parts of North/Mid Wales and the North West.
Indoor Karting is one of the fastest growing adrenaline sports in the world. Bring your friends and family, or even workmates, and cahllenge them to a truly exhilarating race!!
Karting is commonly perceived as the stepping stone to the higher and more expensive ranks of motorsports - Why not try to become the next Lewis Hamilton!!
All manner of groups and individuals are catered for, from absolute beginners to corporate hospitality events - all under the expert supervision of our fully trained staff.
At Redline we have 12 adult karts and six for youngsters aged eight years upwards. The adult karts have 200cc engines, and the kids' are 160cc. This is motor sports, and the karts are anything but dodgems. They're fast pieces of equipment, although we can control speeds centrally by computer by means of transponders. Anyone driving irresponsibly, we could reduce their speed to 5mph and bring them into the pits to be sin-binned.
Our Karts are 'state of the art' kit provided JK2 and Mk2 Karts and from the Bizkart's range.
contact
Redline Indoor Karting
Zone 6, Stad Ddiwydiannol
Cibyn Industrial Estate
Caernarfon
Gwynedd
LL55 2BD

Tel: 01286 66 95 15
Fax: 01286 66 95 13
VAQAS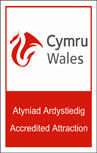 This attraction is Visitor Attraction Quality Assurance Service (VAQAS) approved.
Visit the VAQAS website for more details ...
prices
General
Adult: £6.00
Seniors: £6.00
Students: £6.00
Child:£6.00
Note: Above prices relate to Arrive & Drive (6 minutes on track). Other options: Arrive & Race (15 minutes) £12 pp TT Special (20 minutes) available 12-2pm and 5-7pm £15 pp Mini Grand Prix £20 pp Grand Prix (2 hrs min of 12 drivers) £30 pp Mini Endurance (Based on 6 drivers) £108 per package Endurance (Based on 6 drivers) £150 per package Pre Booking is recommended, so please phone for availability of all races. All racers must arrive 15 minutes prior to racing for briefing session. Failure to do so could result in the booking becoming void. All drivers must be 8 years or older and 135cm in height.
Opening Times
Race Track
1st Jan - 31st Dec
| | M | T | W | T | F | S | S |
| --- | --- | --- | --- | --- | --- | --- | --- |
| 10:00 - 22:00 | | | | | | | |
categories
How do I find Redline Indoor Karting?
Redline Indoor Karting is located near Caernarfon on the main coastal road. It is the regions only indoor Karting arena, creating the perfect venue for a rainy day in the Snowdonia Region. This brand new state of the art centre has everything, you and your friends or colleagues can test your skills against each other on the challenging track.
Public Transport
Caernarfon
somewhere to stay?
Snowdonia Mountains and Coast
nearest events