description
The Welsh Highland Railway is the newest railway in North Wales. It runs from beside Caernarfon Castle through one of the more remote areas of the National Park. New for 2009 are services to Beddgelert and the Aberglaslyn Pass. A return trip takes around 4 hours and shorter journeys to the halfway station are also available. A rover ticket gives you the opportunity to make the most of your day. The Welsh Highland Railway will soon be linked with the Ffestiniog Railway at Porthmadog.
contact
Welsh Highland Railway
St Helen's Road
Caernarfon
Gwynedd
LL55 2YD

Tel: 01766 516000
Fax: 01766 516006
VAQAS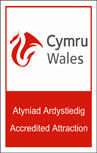 This attraction is Visitor Attraction Quality Assurance Service (VAQAS) approved.
Visit the VAQAS website for more details ...
prices
General
Adult: £25.00
Seniors: £22.50
Child (up to 16 yrs):£12.50
Note: Prices above are for a return rover ticket. Free child with each adult or concession paying full return fare. Parties of 20 or more (10 if disabled) qualify for reduced rates. For further information, call 01766 516024.
categories
Part of: Family, Culture & Heritage, Boats, Trains & Trams categories
How do I find Welsh Highland Railway?
Caernarfon is 20 minutes from the main A55 expressway, giving easy access from Anglesey and the North Wales coast. There are 3 large public car parks within a short distance walk of the station. In addition there is a small car park at our St Helen's Road station.
Public Transport
Bus - Caernarfon town centre / Train - Bangor
somewhere to stay?
Snowdonia Mountains and Coast
nearest events