description
At Plas Menai you'll find an unrivalled choice of watersports and
mountain sport courses. Learn something new, go for qualifications or
work in watersports - the opportunities are here at the National
Watersports Centre.

You can try dinghy sailing, windsurfing,
powerboating, canoe and kayaking, yacht sailing, climbing and mountain
biking on our courses and adventure breaks. With over 23 years
experience in teaching outdoor activities and coaching the national
sailing squads, you'll be in great hands. Our enthusiastic and
dedicated team of instructors are the most highly qualified and
experienced you will find in the UK. Beyond the sea, mountains, lakes
and rivers of North Wales, Plas Menai also runs courses and expeditions
overseas.

†
contact
Plas Menai Watersport Centre
The National Watersports Centre
Caernarfon
gwynedd
LL55 1UE

Tel: 0845 846 0029
Fax: 0845 846 0031
VAQAS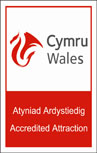 This attraction is Visitor Attraction Quality Assurance Service (VAQAS) approved.
Visit the VAQAS website for more details ...
categories
Part of: Adventure categories
How do I find Plas Menai Watersport Centre?
Road: From the A55 express road, take exit 10 (A487) Caernarfon direction. Follow the brown tourist signs for approx 6 miles.

Bicycle: Plas Menai is located on National Cycle Route 8.

Rail: Bangor is the nearest mainline rail station, 8 miles away.
Public Transport
Rail - Bangor
somewhere to stay?
nearest events