description
Everyone loves new arrivals and Rhyl SeaQuarium is no different with a new exhibit "Out of the Blue" for 2013 it the latest investment in the attraction, and is the first time Moon Jellyfish have been displayed in North Wales.
Named for their ghostly, translucent bells, moon jellies (Aurelia aurita) are abundant in temperate and tropical waters worldwide. Their delicate bodies pulse and drift with the effortless grace of a ballerina. The moon jelly's short tentacles are armed with stinging cells, called nematocysts, but the sting lacks the toxic, painful punch of other jellies.
The world under the sea is full of fabulous creatures. Now, you can see some of the weirdest, most fascinating - and deadliest - animals on the planet.Watch the exciting seal shows and feeding demonstrations throughout the day.
See the sea creatures within their natural habitats and witness the wonders of the ocean.
An all weather Attraction, a great family day out.
  
contact
SeaQuarium
Promenade
Rhyl
Denbighshire
LL18 3AQ

Tel: 01745 344660

VAQAS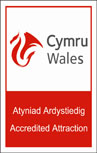 This attraction is Visitor Attraction Quality Assurance Service (VAQAS) approved.
Visit the VAQAS website for more details ...
Note: The Seaquarium will be closed on Christmas Day and Boxing Day, and will open again on 27th December from 10am daily.
categories
Part of: Farm, Wildlife & Zoo, Family categories
nearest events