description
The SeaQuarium in Rhyl North Wales offers visitors an insight into the world beneath the sea and some of the fabulous creatures found there.
PLUS EXCITING NEW Zone for 2014-
Fantastic Phobias Face your fears - Learn more about the human behaviours of phobias and the myths surrounding the animals that no longer pose a threat. Get up close and personal to rats, tarantulas, snakes, cockroaches, millipedes, locusts and giant snails and so much more ... Face your fears all in our ship's hold.
'Out of the Blue' discover the wonderful world of jellyfish and understand these beautiful creatures. See the pulsing Moon Jellyfish and get up close and personal with one of the ocean's most mesmerising creatures it's a great place to learn more.
SeaQuarium also showcases a range of species from around the world in 8 different zones with over 30 exhibits including what is found right on our very own doorstep. See the sea creatures within their natural habitats and witness the wonders of the ocean.
Admire the acrobatic antics on show at Sea Lion Cove from the seaquarium's highly skilled seals. The specially-designed theatre is the setting for amazing stunts as well as lots of splashing from our flipper-waving friends.
Your ticket is valid all day, so come and go as often as you like with a hand stamp.
Don't forget, our Gift shop and Driftwood café are open daily to everyone!
The exciting seal shows and feeding demonstrations throughout the day.
An all weather Attraction, a great family experience.
  
contact
SeaQuarium
Promenade
Rhyl
Denbighshire
LL18 3AQ

Tel: 01745 344660

VAQAS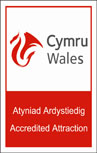 This attraction is Visitor Attraction Quality Assurance Service (VAQAS) approved.
Visit the VAQAS website for more details ...
Note: The Seaquarium will be closed on Christmas Day and Boxing Day, and will open again on 27th December from 10am daily.
categories
Part of: Farm, Wildlife & Zoo, Family categories
nearest events